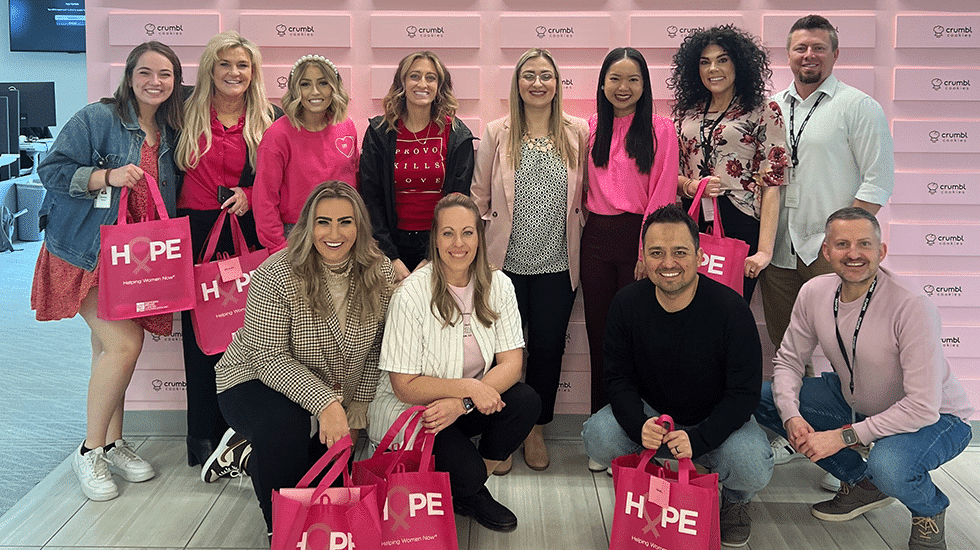 How one cookie company was inspired to go pink and take action
Crumbl was already famous for its iconic pink cookie box, designed to bring "friends and family together over a box of the best cookies in the world." When it added an all-pink cookie line-up—think Pink Velvet, Ruby Chocolate Chip, Chocolate Strawberry Cheesecake, and Pink Doughnut—in honor of Breast Cancer Awareness Month, customers wanted more.
"This week, every flavor in our lineup is pink in honor of the occasion, but it's a bit more personal to me since my dear grandmother, a cancer survivor of 25 years, passed away earlier this year," shared Crumbl co-founder Sawyer Hemsley on social media.
"Grandma Gail was one of Crumbl's biggest fans from day one. She shared her passion for baking with me and always believed in my ability to make the world a sweeter place. This week's lineup is in honor of her as well as you and your loved ones who have battled this disease."
He also invited customers to share their thoughts and experiences on social media—and they did. Fortunately, Sawyer listened and responded in turn.
"Not long after debuting the lineup, customers let us know quickly that they wanted us to do more—customer feedback is something we hold in the highest regard at Crumbl Cookies and we took these requests very seriously," shared Kadee Jones, Public Relations Manager at Crumbl. "We knew that we wanted to pivot our current approach to raising awareness and allow our customers to be part of the process."
Crumbl created an Instagram poll, encouraging customers to vote and determine which breast cancer awareness organizations would receive 10 percent of the company's October profits.
"Overall, we took this experience as an opportunity to listen to the wants of our customers and revise the strategy we had originally picked for breast cancer awareness. We always strive to become better through the feedback we get and pivot when needed—we will never claim that our efforts are perfect, but at Crumbl, we never stop trying to do the right thing, and we will always do our best to uphold the interests of our customers."
National Breast Cancer Foundation was honored to be one of the organizations selected in the poll. Crumbl also gives back to those impacted by breast cancer on an individual level, sending out personalized care packages that share their love and support.
"Our pink week lineup was a way for us to honor both Sawyer Hemsley's grandmother and anyone affected by breast cancer. We were honored to have donated a portion of sales to National Breast Cancer Foundation as a way to further contribute to those affected and provide resources for continued research," Jones added.
After opening in 2017, Crumbl has expanded to more than 600 bakeries in 47 states, making it the fastest-growing cookie company in the nation. It features more than 170 unique cookie flavors rotated weekly, including the wildly popular all-pink cookie line-up in October.
"There is nothing sweeter than a donation from a company like Crumbl, which clearly cares about its customers, its team, and anyone who has been impacted by breast cancer," said Michelle Romanczukiewicz, Sr. Manager of Strategic Partnerships, National Breast Cancer Foundation. "We are grateful for this support and hope we have the opportunity to sample this year's pink cookies!"
---
Interested in partnering with National Breast Cancer Foundation?