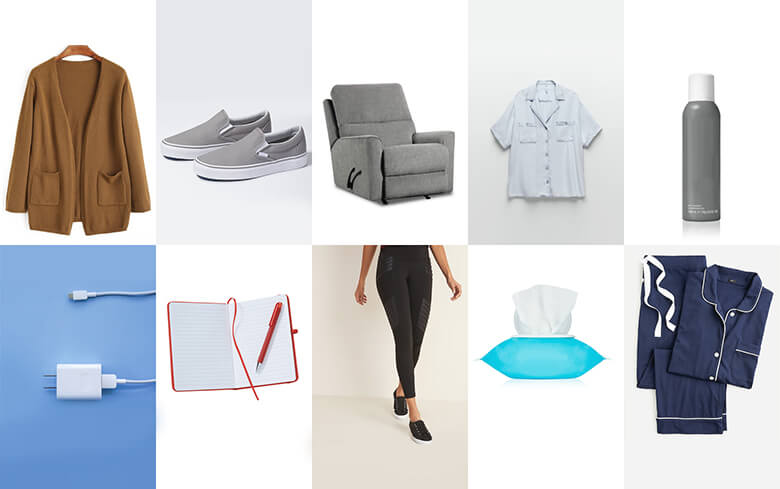 One of the most common methods of treatment for breast cancer is surgery. When a patient undergoes a mastectomy (partial or bilateral), a lumpectomy, or even reconstruction, the healing process can come with its own set of challenges.
After surgery, patients will be moved to a recovery room where vitals will be monitored by a medical team. Everyone's experience is different but the average hospital stay is 1-3 days. If opting for a mastectomy and reconstruction at the same time, patients can expect to stay longer.
---
From Survivors and Patients: 17 Must-Haves for Recovery after Mastectomy
We are lucky to be able to call on our community of breast cancer survivors and ask for their insights. To help breast cancer patients facing surgery, we compiled a list of some of the most-used items to help provide comfort during a hospital stay or while recovering at home.
There was an overwhelming response; front button shirts, yoga pants, and an underarm pillow were some of the most popular answers. A back scratcher, a drain apron, and a recliner were some of the non-traditional, but genius, tips provided.
Dry shampoo and feminine hygiene cloths or wipes were also recommended to help patients stay fresh. Most patients are told not to shower until the surgical drains are removed, so these items can help with staying clean until it's safe to resume a normal routine.
It's important for the patient to give themselves grace and allow time for healing—let go of the ever-present chore list, the daunting task of grocery shopping, and the stress of cooking while trying to recover. Before a mastectomy, it may be helpful to ask friends and family members to start a meal train.
A survivor in our community, Ashley, shared how she effectively organized her home to prepare for her recovery time:
"Before the surgery I prepped my house and put things in reach and out of cabinets so I could do as much for myself as possible. For your drains, know that while they're in (6-9 weeks) you will not be able to lift your arms over your head. So, knowing that, I took things down like coffee cups, plates, shampoo, etc. off higher shelves beforehand.
"I did a check three days before, of everything I used on a daily basis and was mindful of things I had to reach for. I was lucky enough to have my husband home but I'm also stubborn and like to do for myself as much as possible.
"Be prepared to not be able to sleep in your bed for a while, because it's near impossible to get out of it once you're laying down. I slept in a chair for a week or so before getting a wedge pillow for the bed, and that thing was awesome! I used it for about five weeks before I was able to use my stomach muscles to lift myself out of bed."
---
Recommendations From Breast Cancer Survivors, Patients, and Physicians
This checklist has been developed in partnership with breast cancer patients, survivors, and physicians. Below are their tips for what to have on hand and what to do as you prepare for a mastectomy.
Download your free checklist here.
How to prep at home before surgery:
1. Place most used items in reach
2. Find a comfortable chair or recliner for sleeping
3. Grab a wedge pillow for transitioning to a bed
4. Start a meal train, or ask a friend to host one during recovery
What to bring to the hospital:
5. Front button and loose-fitting shirts
6. Yoga pants
7. Pillow for support under the arm or seatbelt
8. Slip-on shoes
9. Snacks
10. Phone charger
What post-op items to have at home:
11. "Drain apron", cardigan or zip-up hoodie with pockets, or a button-up shirt with pockets for drains
12. Pen and notebook for journaling, tracking medication times, and questions for the doctor
13. Cooler on the porch, if receiving a meal train
14. Chair or recliner for sleeping
15. Dry shampoo
16. Cleansing or shower wipes
17. Comfortable pajamas
---
FAQs about Mastectomy Recovery
Answered by Meghan Hansen, M.D., NBCF Medical Advisory Council member and breast surgical oncologist at Texas Oncology.
How long is recovery from a mastectomy?
Mastectomy recovery can take anywhere from 2-4 weeks, depending on the type of mastectomy performed. For example, recovery time for a mastectomy without reconstruction is typically closer to 2 weeks, while a mastectomy with reconstruction is often closer to 4 weeks. During recovery, the first week is usually the hardest because your movement is limited, and you likely will still be experiencing surgical pain. After that first week, every day gets easier. Once surgical drains are removed at around 2 weeks after surgery, patients usually start feeling much better. Restrictions on lifting and exercise are usually in place for 4 weeks total.
How long are you on bed rest after a mastectomy?
You should never be on bed rest after a mastectomy. Patients should be up and walking, with supervision, on the same day as surgery. Patients should ideally walk 3-4 times per day to get moving again and to help decrease the risk of blood clots and pneumonia.
What are do's and don'ts after a mastectomy?
Always refer back to the patient's surgeon and care team. However, general restrictions include no lifting over 10 pounds for 4 weeks, no strenuous exercise for 4 weeks, and limited arm movements until the surgical drains are removed. Patients may have to sponge bathe while drains are in place. It is important to closely follow all instructions and restrictions given by your surgeon and care team.
How long does pain last after a mastectomy?
Pain levels after surgery vary based on the type of mastectomy and if reconstruction was performed. Most patients who undergo mastectomy without reconstruction have little or no pain, even right after surgery. These patients typically take pain medication for 1-5 days. If patients have reconstruction, they usually take prescription pain medication and muscle relaxants the first week, then wean off of prescription medications to over-the-counter medications like Tylenol and ibuprofen during the second week. However, this varies per patient. After this, tightness and discomfort may still be present, but not to the extent that patients need prescription pain medication. If you are still experiencing pain after 2 weeks, contact your surgeon or care team to let them know.
Is physical therapy required after a mastectomy?
Most surgeons will refer their mastectomy patients to physical therapy about 4 weeks after surgery. Physical therapy will help patients regain movement and range of motion, relieve muscle tightness, and address any scar tissue-related issues, with the goal of getting patients back to their baseline, or their normal physical condition before surgery.
---
No matter what the patient is able to pack or set out at home, we believe that having encouragement, support, and hope makes all the difference. Resources are open and available for patients and loved ones, and our team at National Breast Cancer Foundation is here for support.
Join the conversation! If you've gone through breast cancer surgery, comment below what your must-have recovery items were.
For the full comment thread of recommendations from survivors, check our Facebook post here.
Last updated August 24, 2023