Breast Cancer Awareness Month is a time when people around the world come together to show their support for those affected by breast cancer. For Brian, this month holds a special significance. After several of Brian's loved ones were diagnosed with breast cancer, he knew he wanted to support them—and other women affected by breast cancer—in meaningful and impactful ways. Today, Brian is the leader of his employer's Community Involvement Committee, through which he organizes Breast Cancer Awareness Month events and fundraisers. To date, Brian has organized fundraisers that have resulted in $10,000 donated to NBCF. To Brian, this is just the beginning.
Brian's Biggest Inspiration
Brian's mom, Marta, has been his biggest source of inspiration throughout his life. After her breast cancer diagnosis while Brian was in college, Marta's resilience throughout her journey left a mark on Brian's heart that would change his life forever. Brian recalls that when his mother saw herself in the mirror for the first time after her mastectomy, she fell to her knees in tears. But he says she got up, looked at him, and promised him that she would continue treatment in order to see him graduate. Brian ultimately pursued his doctorate, and became an advocate for breast cancer awareness and community support along the way.
Because his mom pushed for her children to know their bodies and get checked regularly, Brian's sister, Martaliz, found her own cancer early. He shared, "What my sister had was in the extremely early stages, and [she] could battle it with the chemo pills only. Thanks to God, she is now doing better and on the alert."
Brian's Angel
When Brian met his dear friend Thayna, he was mesmerized by her from the very beginning of their friendship. After her breast cancer diagnosis at an early age, Bryan says Thayna was determined to live her life to the fullest. She even made the brave decision to become a mom, despite the risks involved with her cancer treatment. Thanya's beautiful twins, Kayden and Kaylee, were born just a day before Brian's own birthday. Thayna loved and cherished her children for four years until she passed away after her cancer metastasized to her brain. Brian visits Kayden and Kaylee each year in New Jersey and remembers Thayna as one of God's angels. Her legacy continues to move Brian to action.
From Inspiration to Action
Brian knew he wanted to offer the same help and support his mother received when she was facing breast cancer to other women in the same situation. In 2019, he saw an opportunity to give back to organizations like National Breast Cancer Foundation and signed up to co-lead fundraising events for breast cancer awareness without hesitation. Little did he know that this role would be the beginning of a beautiful journey that would change his life and the lives of those around him.
Since 2019, Brian's team at Signature Aviation has hosted an annual "Breast Cancer Awareness Day" to share breast health resources and raise funds through sales of t-shirts, polos, and baked goods.
Since 2012, Signature Aviation has donated over $30,000 to NBCF, with Brian leading the charge for more than $10,000 of that amount. His efforts ensure that no one navigates breast cancer alone.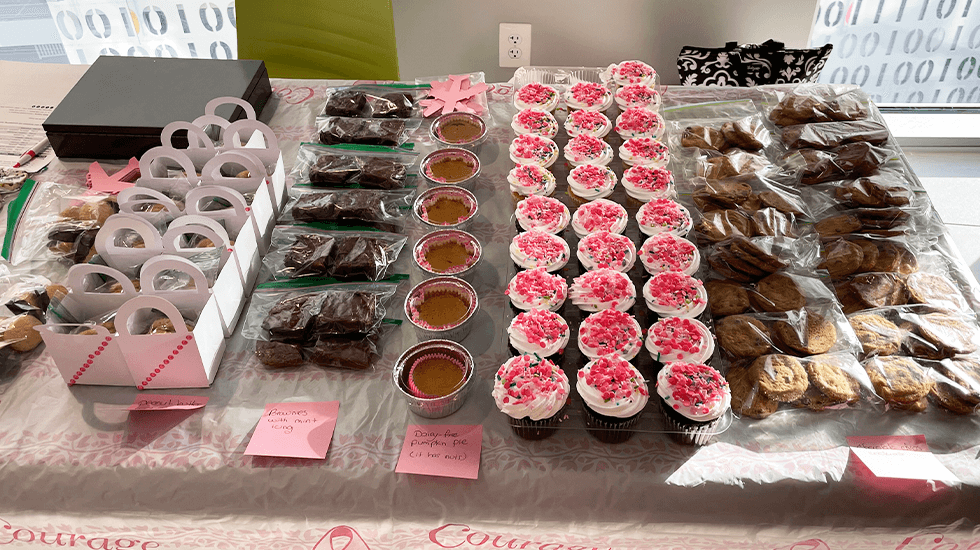 When Brian was asked, "Why NBCF?" he shared:
"Through NBCF, my mom received all the help she needed to battle cancer, and for me, that is something that I will never forget. So, I want to help the organization to continue helping other women and men with breast cancer."
---
Ready to bring your workplace together for good?
National Breast Cancer Foundation is here for you and your loved ones. Whether you need support, education, or help during treatment, we have a team dedicated to getting you the help you deserve.