Throughout her breast cancer journey, Bailey wondered again and again, "Why is everyone taking their time?" Waiting for tests, waiting for diagnoses, waiting for surgery, waiting for answers—in the end, the one person who made the most difference was Penny, Bailey's patient navigator. This is Bailey's story of finding support—and hope—during the waiting periods that often accompany a breast cancer diagnosis.
---
While vacuuming her living room on an ordinary day in 2021, 27-year-old Bailey of North Branch, MI, felt a shooting pain in her left breast and later found a small lump. As a medical assistant for an OB-GYN, Bailey had access to great information and care, but she assumed it was likely a cyst because she was so young. She shared, "I'm familiar with people coming in with benign breast conditions, and I really didn't think much of it—I just went about my business," which included parenting her 3-year-old son.
But as the week passed, the lump changed quickly: "It went from a small lump to the whole side of my breast hardening up. I knew this was more than a cyst." She also began to experience other signs and symptoms, such as nipple retraction and veins in the breast becoming more prominent.
After getting an ultrasound scheduled—which again involved waiting and wondering—Bailey learned that the results were abnormal. "My number-one concern through this whole process was having to wait to find out. Everything took forever. I couldn't get in for four weeks, or I couldn't do this, or I had to wait another week. Time was just adding up at this point."
In the midst of all the waiting and testing, Bailey sat her husband down and told him, "I don't need you to even talk. I don't need you to say, 'It's all going to be ok.' I just need you to listen to me. It's very likely that I have cancer, and I have to be able to talk to someone about it, and no one will listen." While she appreciated the positive sentiments her friends and family had shared up to that point, having someone simply listen to her thoughts and concerns made a tremendous difference.
Eventually, a follow-up biopsy revealed Bailey had invasive ductal breast cancer.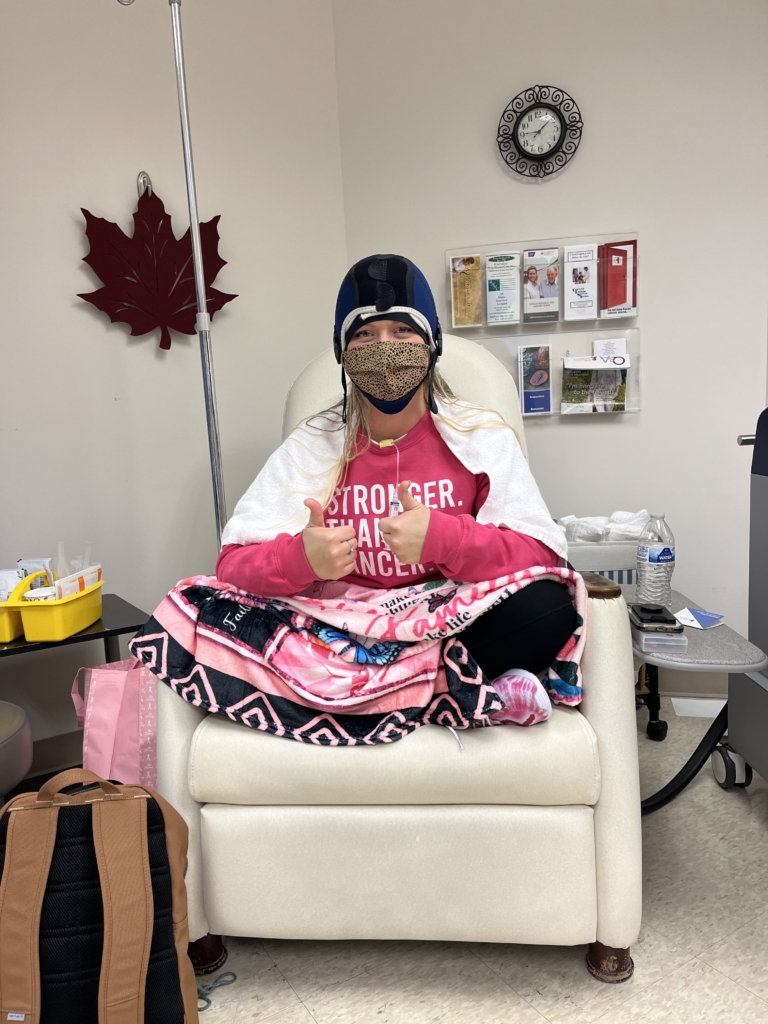 After so many periods of waiting, wondering, and uncertainty, the minute Bailey connected with her breast surgeon at the Karmanos Cancer Center at McLaren Flint Hospital, and her nurse navigator, Penny, everything changed. Penny reassured Bailey throughout her journey: "Penny said she would be there for me, and I knew she meant it. You don't have anyone who knows how to relate to what you're going through other than random forums on the internet of people worrying about the same thing, but you're not talking to them. You're in your head." But Penny was able to set Bailey at ease.
The nurse navigator position at Bailey's cancer facility—and at many other facilities across the country— is made possible through Patient Navigation Program grants from National Breast Cancer Foundation. Navigators like Penny connect patients to a variety of resources to assist them throughout their journey, educate them about their disease and the treatment process, and connect them with financial resources when needed. Perhaps most important to Bailey, NBCF navigators also help facilitate scheduling and treatment plans to ensure they occur in a timely manner.

"Receiving a breast cancer diagnosis can be a very frightening and overwhelming experience," Penny says. "Patients have many questions, many doctors, many appointments, and often do not know where to start. I'm there to provide assistance and guidance throughout the process, along with emotional support."

That support came in the nick of time for Bailey, who learned she carries the BRCA2 breast cancer gene mutation. That meant she needed a double mastectomy, followed by 16 weeks of chemotherapy, radiation, and breast reconstruction. Of this treatment process, Bailey shares that she was thankful that she "had more good days during chemo than bad, and that's a lot to say."
"Penny was so accessible and she would get back to me ASAP. She told me, 'Email me anytime, call me, whatever—I'll take care of you.' I knew she was my person, I could feel that," Bailey added. "Penny is a lifesaver. She's been with me through everything."
Right now, there are hundreds of patients across the nation who rely on the personalized support provided by NBCF patient navigators. But the bond between navigator and patient doesn't end when treatment concludes: Many survivors, especially those with financial challenges, still need access to community resources and the kind of support only a patient navigator can offer, often for many years after their initial diagnosis.

Today, Bailey continues to have routine screenings and mammograms to ensure the cancer has not returned or spread. Through it all, Bailey knows she can depend on one thing: Penny will be there for her. "I could not have made it through this without Penny; she's been my saving grace," said Bailey. "I am so overly grateful for her. She literally made me feel safe."
"Being my own self-advocate and having a good team helped me get through my day-to-day. You can have a bad day, and you can cry. You have every right to. Then you get it out and start over."
NBCF's mission is to help those facing breast cancer when they need it most. To learn more about NBCF's Patient Navigation Program or find a navigator in your area, click here.