Outreach Partner: Convoy of Hope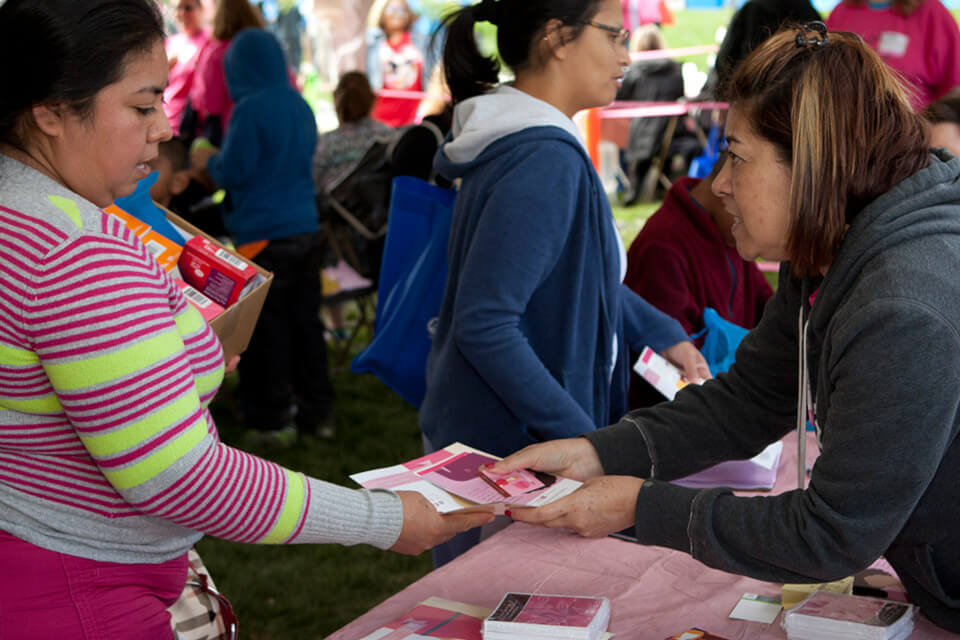 As part of the Breast Health Education Program, the National Breast Cancer Foundation is partnering with Convoy of Hope to provide breast cancer education and early detection services to women at community outreaches across the country. Through this partnership, we will be at Convoy of Hope outreaches educating women about the importance of early detection and connecting them to the resources that are available in their community.
Through this initiative, NBCF has trained over 4,000 volunteers and delivered life-saving services to over 74,000 women on breast self-awareness techniques. At select outreach events, NBCF is able to offer free mammograms to uninsured women through our network of partner hospitals.
Visit ConvoyofHope.org for tour locations and dates.
Take Control
"
I had never done a breast self exam before I came to the NBCF tent and I wouldn't have found the lump that sent me to the doctor. Thank you for being here and providing resources and training.
"
Sheila Ross
Event Attendee
Community Ambassadors
NBCF partners with community leaders nation-wide to spread breast health education and share early detection resources. Our Community Ambassadors have received breast health training, have the ability to coordinate awareness and fundraising events, and can recruit other volunteers as needed. Community Ambassadors work closely with NBCF staff to ensure they are fully equipped to address the needs of their specific communities. Join us in spreading breast cancer awareness in your area by becoming a Community Ambassador today!
Free Breast Health Guides
NBCF is dedicated to delivering comprehensive, educational information on breast health and healthy living. From understanding the importance of early detection, to knowing how to prepare for a mammogram, NBCF's online resources and guides aim to empower women and men with useful information.
Beyond The Shock Video Series
Beyond The Shock is a resource for women who have been diagnosed with breast cancer and for their loved ones to gain a better understanding of the disease. Beyond The Shock is a series of easy-to-understand videos divided up into chapters and sub-chapters. Learn about breast cancer, its types and stages, how it grows, how it is diagnosed, and how it is treated.
Navigating Breast Cancer in the Workplace
Women represent 47% of the current workforce, and 1 in 8 women will be diagnosed with breast cancer in their lifetime. NBCF partners with corporations who are interested in strengthening their women's health education programs. Through our Navigating Breast Cancer in the Workplace presentations, NBCF educates employees on breast health principles and encourages leadership to improve quality of work environment for employees facing breast cancer.