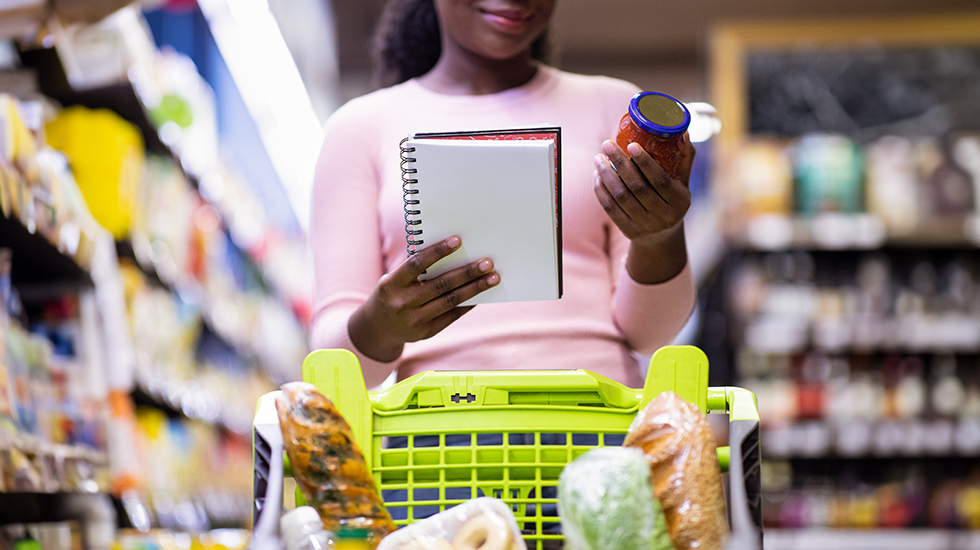 Written by Annie Cavalier MS, RDN, LD
Trying to maintain good nutrition is important while undergoing cancer treatment because your body needs nutrients in order to fuel cells, repair tissues, maintain muscle mass, and more. Unfortunately, many of the side effects of chemotherapy and radiation can make eating much more difficult.
Some treatment side effects include reduced appetite, changes in or lack of taste, nausea, dry mouth, or mouth sores. Cancer patients may experience all these side effects, or they may have none at all. Everyone's body responds differently, and the type of treatment you are receiving can also greatly impact what side effects you experience. Side effects may also vary throughout different stages of your treatment. For example, you may have less nausea and be able to taste food more just before a chemo session since it may have been a few weeks since your last treatment. In that situation, make sure to take advantage of those times that you are feeling better to try to eat more and have some of the foods you love.
With that being said, it is important to note that there is no "one-size fits all" meal plan when it comes to food to eat during cancer treatment, but the foods discussed below can be used as a guide if you are struggling with deciding what foods to even try. A food that one cancer patient may love may not sit well on your stomach or cause your mouth sores to hurt more. If that's the case, stay away from it. The most important thing is that you are eating something, so try different things and see what works best for you.
Oatmeal
Oatmeal is one of my favorite foods to recommend to cancer patients because not only is it soft and therefore unlikely to irritate mouth sores, but it is also often easier to tolerate compared to many other foods when you are feeling nauseous. If you are struggling with dry mouth, try making your oatmeal a little more watery so that it is easier to swallow.
In addition to being generally well-tolerated by cancer patients, oats and oatmeal also contain many beneficial nutrients. It is a great source of soluble fiber which can help regulate bowel movements and prevent diarrhea and constipation (both of which may be side effects of cancer treatment). Unfortunately, fiber is less successful at helping prevent opioid-induced constipation,1 which many cancer patients struggle with due to frequently requiring prescription pain management, though it is still recommended to consume an adequate amount of fiber. The type of fiber that is in oats, called beta-glucan, also has many other health benefits, including helping to lower cholesterol, improve blood sugar control, and more. There are even some studies that indicate that beta-glucan helps improve immune function, fight against infections, and may even reduce the growth of cancerous tumors.2 Other nutrients found in oats and oatmeal include manganese, phosphorus, magnesium, iron, zinc, and some B vitamins.3
Try adding a tablespoon of protein powder or nut butter to your oatmeal if you are having a hard time eating enough high-protein foods. Other great additions to oatmeal include fresh fruit (make sure to wash them well), nuts or seeds, cinnamon, coconut flakes, or maple syrup if you are wanting something a little sweet.
Eggs
Just in case you haven't heard it enough from your doctors or registered dietitian, I'll say it again – protein is so important while undergoing treatment! Really any protein-rich foods you can tolerate are great options, but many cancer patients tend to tolerate soft protein foods best, especially if they are nauseous or have mouth sores. In this instance, eggs are a great choice.
Don't be afraid to eat the whole egg either unless you have specifically been told by your doctor or registered dietitian to only have egg whites. While egg whites are high in protein and low in fats, they do not contain many other nutrients. Egg yolks, on the other hand, are great sources of several B vitamins, as well as vitamins A and D, choline, and many important minerals.4 The fats in the egg yolk can also be helpful to get extra calories if you are struggling with eating enough in general and have lost weight.
While it is true that egg yolks, and therefore whole eggs, are high in dietary cholesterol (aka cholesterol found in food), many studies indicate that dietary cholesterol does not have a significant effect on the cholesterol levels in your blood and that eating whole eggs is not associated with increased risk of heart disease or stroke.5–8
Make sure that your eggs are cooked all the way while your immune system is low during cancer treatment in order to reduce the risk of foodborne illness (that means no soft-boiled, poached, or any other form of eggs with a runny yolk).
Yogurt
Sticking with the theme of soft protein foods, yogurt is another great option! I typically recommend Greek or Icelandic yogurts, which are often higher in protein compared to regular yogurt. If you are unsure, just look at the nutrition label to see how much protein a specific product has. Try to find a yogurt with about 15 grams of protein per serving (it may be a few grams more or less, depending on the product). Unfortunately, most plant-based yogurts are not good sources of protein, so make sure to include other protein sources in your diet if you prefer plant-based options. Another important nutrient found in yogurt is calcium, which helps support strong bones. This is important because breast cancer treatment increases the risk of bone loss and osteoporosis.9
Yogurt also contains microorganisms called probiotics, which are bacteria that are good for your health. Probiotics provide many benefits, such as helping improve gut health, promoting regular bowel movements, and more.10 They also make some vitamins that your body can then use.11 One study even suggests that probiotics may help reduce the effects that chemotherapy has on concentration, memory, and attention span in breast cancer patients.12
Despite the many health benefits that probiotics provide, there may be times during your treatment when your doctor advises you to limit probiotics when your immune system is at its lowest (however, this is usually regarding probiotic supplements and not necessarily probiotics found in food). Always defer to your doctor or registered dietitian's recommendations throughout the course of your treatment.
Hummus
Hummus is a great source of protein and is especially good for people who are following a plant-based diet. Hummus also contains anti-inflammatory fats, fiber, and a wide variety of vitamins and minerals.13
Hummus is traditionally made from chickpeas (also called garbanzo beans), tahini (roasted sesame paste), lemon juice, garlic, and spices, but may contain additional ingredients for added flavor. Keep in mind that hummus that has additional ingredients, such as red peppers, may be irritating to mouth sores. One of the most popular ways to eat hummus is, of course, as a snack with crackers, pita bread, veggies, or spread on rice cakes, but you can also add it to salads, bowls, sandwiches, and wraps.
Cottage Cheese
Another great soft protein option is cottage cheese, which contains approximately 14 grams of protein per half-cup serving. It also contains a range of vitamins and minerals, such as vitamin B12, riboflavin, calcium, phosphorus, and selenium.14 You can eat it by itself, as a dip for fruits and vegetables, spread on toast, and many other ways.
Bananas
Bananas are a great food to have on hand while undergoing cancer treatment for many reasons. They are soft and, therefore, likely easier to tolerate if you have any mouth sores, and they are full of nutrients. Bananas are an especially good option if you are struggling with nausea and vomiting because they are easy to digest, so they likely won't further upset your stomach, and they can help replenish any potassium that has been lost from vomiting.15
Avocado
Avocados contain a wide variety of important nutrients, but for cancer patients, the main thing to care about is that they are high in calories (which is a good thing!) It is common to lose weight both from cancer itself as well as due to the side effects of cancer treatment. While you may be excited about this weight loss to a degree, it is not recommended to lose weight as a result of illness. Unintentional weight loss can lead to loss of muscle mass, which is associated with negative health outcomes.16,17 If you have been losing weight, try eating avocados by themselves, spread on toast, in smoothies, and in any other form you can think of! Like bananas, avocados are also high in potassium which can be helpful if you have been vomiting frequently. However, you may want to wait to eat them until the nausea subsides because the high fat and fiber content of avocadoes will likely be harder on your stomach.
Apple Sauce
Apple sauce can be a great food to keep on hand because it is soft and moist, which makes it easier to swallow if you are having problems with dry mouth and is less likely to irritate mouth sores. It is also easy to digest and, therefore, a good choice for those struggling with nausea. While there is a wide range of nutrients in apple sauce, they are in pretty small amounts. If you or a family member feel up to making homemade apple sauce, you can improve its nutrient content by including the apple skins, which are higher in fiber and vitamins and minerals compared to the rest of the apple.18 Just make sure to wash the apples well before blending them up!
Broths and Soups
Broths and soups are generally well tolerated while undergoing cancer treatment and can have a good amount of nutrients. When it comes to soups, try to stay away from those that contain a lot of fat, such as cream, if you are nauseous. Instead, try something that is more broth based. It also may be easier to tolerate vegetables that are in soups because they soften during the cooking process, making them easier to chew and for your body to digest. You can also try soups that have ingredients such as chicken, beef, or beans to help boost your protein intake.
Broth itself may also be a particularly good option for you if you are struggling with severe nausea or if your doctor wants you on a clear liquid diet (this is usually right after having surgery). A popular food trend you may have heard of is bone broth, which is typically higher in nutrients than regular broth and frequently contains higher amounts of protein as well as some vitamins and minerals. Something to keep in mind is that the nutritional quality of bone broth does vary based on how it was prepared and the ingredients used. If you are purchasing bone broth at the store, compare the nutrition labels of a few different products to see which has a higher nutrient content.
Smoothies
Something that I often find with cancer patients who have a low appetite is that it is usually easier for them to drink something rather than eat a full meal. Smoothies are great because they can be packed with nutrients and may not cause much irritation to mouth sores, especially if you stay away from acidic ingredients such as oranges, pineapple, strawberries, or grapefruit. There are so many different variations of smoothies you can make based on your taste preferences, dietary restrictions, and how you are feeling. Click here for a simple guide on how to build smoothies and learn about the health benefits of various smoothie ingredients.
Nuts and Seeds
I always recommend having snacks on hand, both for when you are out and about going to doctor appointments and treatment sessions and when you are at home, because they are great ways to squeeze in additional nutrients throughout the day. Nuts and seeds are great snack options because they are packed with protein, healthy fats, and vitamins and minerals. If whole, intact nuts are too hard and irritate your mouth sores, try nut butters. You can even add seeds, nuts, and nut butters to other foods, such as oatmeal or smoothies. Nuts are also great to keep eating after you have completed your cancer treatment, as a recent study suggested that regular consumption of nuts was associated with reduced breast-cancer recurrence and greater overall survival.19
Bread or Crackers
Carbohydrates are the easiest type of macronutrient for your body to digest, which makes it a great choice if your stomach is upset. As hard as it can be to believe this when you are feeling nauseous, getting something in your stomach may actually make you feel better. Bland carbohydrates such as crackers and toast can be useful in these situations, so I recommend keeping them close by to snack on throughout the day. If you are also having a lot of pain from mouth sores, try a non-toasted, soft bread.
While whole grain breads and crackers are more nutritious, save these for when your stomach is not as upset, as the fiber in these foods could worsen nausea. If you are feeling well enough, try spreading nut butters, hummus, avocado, cottage cheese, or any other foods that sound good to you on your bread or crackers to help maximize your nutrient intake.
Jello or Gelatin
While jello is not considered a "nutrient-dense" food (meaning it does not contain very many vitamins or minerals), it may be one of the only things you can tolerate at times. If that is the case, don't let the minimal nutrients it contains deter you from eating it. Eating jello or gelatin is better than eating nothing because you will at least be getting some calories and small amounts of protein. I always tell cancer patients that when they have no appetite or are feeling really sick, the most important thing is that they are eating something. You can always work on improving the nutritional quality of what you are eating later. Like broth, jello is also a great option if your doctor tells you they only want you to eat and drink clear liquids.
Popsicles
Eating popsicles can also be a great way to try and get some calories in if you are having a hard time tolerating everything else. While many patients find the cold temperature of popsicles soothing, some may find that they make their mouths hurt worse. As always, pick and choose the foods that your body responds best to.
Popsicles made from real fruit will have more nutrients compared to those made with artificial flavors. You can even make homemade popsicles with your family by blending fresh fruit of your choice (make sure it has been washed) with ½ tsp honey or some Greek yogurt, pouring the mixture into a popsicle mold, and leaving it in the freezer for at least 8 hours.
Ginger, Chamomile, or Peppermint Tea
Various herbs have been used for centuries to help reduce symptoms such as nausea and upset stomach. Several studies done on ginger, chamomile, and peppermint extract show that these three herbs are effective at improving nausea, including chemotherapy-induced nausea in breast cancer patients.20–25 One study even suggested that peppermint extract may help prevent loss of appetite.24 While these studies were mostly done with extracts of these three herbs, teas may also have the same benefits.
For more information on managing the nutrition-related side effects of breast cancer treatment, click here. You can also access a free cookbook with recipes to try here. Download our free grocery list here.
Disclaimer: The information provided in this article should serve as a general guide and should not be used for the diagnosis or treatment of a medical condition. Please ask your doctor or your registered dietitian if there are certain foods that you need to avoid due to other medical conditions or nutrient interactions with medications you may be taking.
---
About the Author
Annie Cavalier is a clinical registered dietitian who works at one of the largest hospitals in Dallas, Texas. She attended the University of Texas at Austin for her bachelor's degree in nutrition and dietetics and received her master's degree in nutrition from Texas Woman's University.
Annie runs her own nutrition and lifestyle website, My Healthful Life, which she plans to grow into a private practice. In addition to writing articles for her own website and the NBCF, Annie has also written for the University of Texas Department of Kinesiology's Fitness Institute of Texas, Southern Dallas Magazine, and more.
Contact:
www.myhealthfullife.com
Instagram: @myhealthfullife
YouTube: My Healthful Life