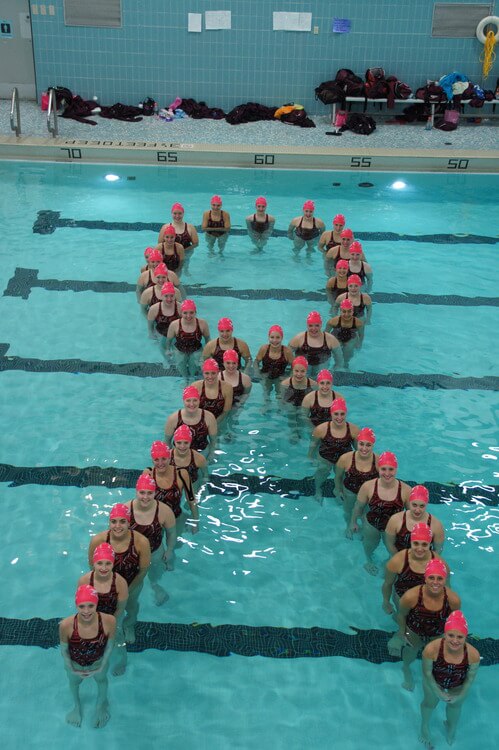 Battling the terror of breast cancer is much like swimming upstream: you constantly feel the stresses pushing against your progress. It might seem easier to stop believing or lose hope. However, the Sauk Centre Girls Swim Team made it their personal mission to instill faith in breast cancer victims by hosting their fundraiser for NBCF.
Three years ago, Swim Team Coach James Schreiner's wife was diagnosed with breast cancer. "The girls wanted to do something to raise awareness and honor her fight," James said. "They call her 'swim mom' so needless to say my wife was very touched." James' wife wasn't the only woman they honored. The Sauk Swim Team sought out other survivors in the community and recognized each during the meet. Each woman is called upon to stand up, and they each are presented a pink rose to honor their battle with breast cancer. "It is honestly one amazing night," James recalls.
The Sauk Centre Girls Swim Team has made the event bigger and better in the last three years. Their biggest sell is the pink ribbons which are donated and printed for them by the local newspaper. People who donate get to write their name on the ribbon, and hundreds of them are then hung outside the entrance to the fan's balcony on the day of the swim meet. Pink swim caps and pink t-shirts are worn all over the natatorium show pride and support. To top it all off, they have a "chuck-a-duck" contest. Advertised all throughout the school, the contest requires you to pay an entry fee to throw one of the rubber ducks into a buoy in the pool. "The winner gets 50% and NBCF receives the other 50%, but without fail, the winner always donates their prize as well," James notes.
Coach James insists the night is more than just about raising money for awareness. It is also about being able to "teach the girls a lesson that will last way beyond their years in the water and their years in school." This past year, the team was able to raise over $6,500 in just one swim meet! Furthermore, they were able to give honor to many women of their community who have been affected by breast cancer. The Sauk Centre girls are already excited about this year as they give more women hope to tread breast cancer's tough waters.
Want to help? Get involved with NBCF by starting your own fundraiser!