Inflammatory Breast Cancer (IBC)
What Is Inflammatory Breast Cancer (IBC)?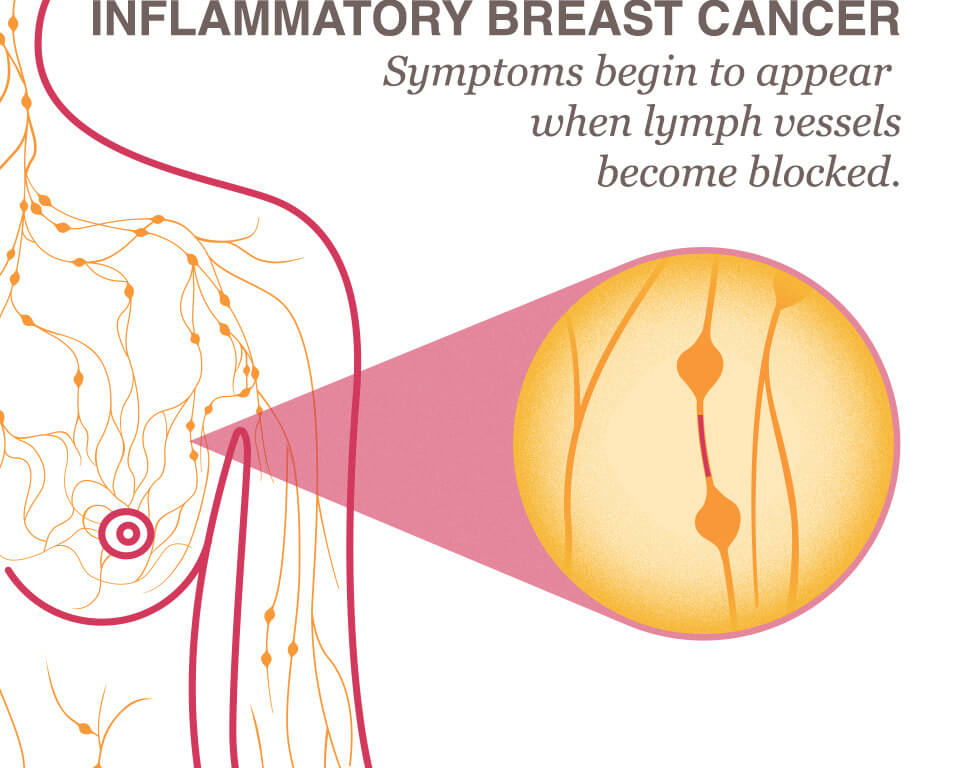 Accounting for 1 to 5% of all breast cancer cases, inflammatory breast cancer (IBC) is a rare and aggressive type of breast cancer. IBC occurs when cancer cells infiltrate the skin and lymph vessels of the breast. IBC is harder to diagnose than other types of breast cancer and tends to occur in younger women. It also spreads more quickly than other types of breast cancer.
Table of contents
---
What are the symptoms of inflammatory breast cancer?

Unlike many other types of breast cancer, inflammatory breast cancer does not typically start with a distinct lump or tumor in the breast that can be felt or isolated. But when the lymph vessels of the breast (the small tubes that drain lymph fluid away from the breast tissue and carry it to the lymph nodes) become blocked by breast cancer cells, symptoms begin to appear.
Inflammatory breast cancer symptoms may include:
Areas of skin discoloration that are pink, red, or purple, which typically cover more than one-third of the breast
A persistent rash that looks like an insect bite or a bruise
Swelling or firmness, typically in one breast
Persistent itching, pain, and/or burning; one breast may feel warmer than the other
Skin may appear pitted like an orange peel
Nipple changes including inversion (turning inward), flattening, or dimpling
Swollen lymph nodes near collarbone or under arm
If you have these symptoms, it does not necessarily mean you have inflammatory breast cancer, but you should see a physician. You may initially be treated with antibiotics to rule out a breast infection or allergy. But if symptoms persist, you should see a breast specialist.
---
Inflammatory breast cancer rash
A rash is one of the first and most common symptoms of IBC. The rash may appear suddenly, even overnight, and look red, pink, purple, or discolored. The rash is typically large, covering at least one-third of the breast, and can appear on and around the entire breast. It can appear with or without associated itchiness. For some, a rash can look more like a bruise.
Inflammatory breast cancer rashes are caused by a blockage of lymph vessels (small drainage tubes) in the breast that results in redness, swelling, and inflammation. For some, the rash or bruise may be persistent and not go away. For others, the rash or bruise may come and go over a period of time. However, rashes and other symptoms often become worse and more persistent as the cancer progresses.
Other conditions that lead to breast rash
Inflammation of breast tissue is most typically seen in women who are breastfeeding, have infections, allergies, and other conditions that may also lead to a breast rash. These conditions include:
Mastitis: This infection of the breast is most often seen in pregnant or lactating women. Mastitis symptoms include breast pain, swelling, redness, and flu-like symptoms. If your primary care physician or gynecologist diagnoses mastitis, but symptoms persist after a one-week treatment of antibiotics, it's important to be seen by a breast specialist.
Paget's disease of the breast: Another rare breast cancer, Paget's disease of the breast is more treatable than IBC and is also characterized by itching, redness, and scales on or around the nipple. Paget's disease often stems from an underlying breast cancer and typically begins in the nipple ducts and then spreads to the surface and the areola.
Nipple dermatitis: Also known as eczema, nipple dermatitis is characterized by dry, itchy skin that may feature small raised bumps and red or brown patches. It often appears on people who have eczema elsewhere on their bodies and may recur. Nipple eczema can be treated with moisturizers and medication.
Breast skin dermatitis: This type of skin irritation caused by an allergic reaction to soap, detergent, a piece of clothing, an insect sting, or perfume. It can be treated by discontinuing contact with these items and using over-the-counter steroid cream and anti-itch medications.
Breast abscesses: Often caused by bacteria, a breast abscess is a collection of pus in the breast. They may appear as a hot, swollen, red mass on the breast and can also cause fever, nausea, and chills.
Not all breast problems are breast cancer. However, if you have any new or unusual changes in your breasts, including size, redness, rashes, itching or irritation, or bruising, it is important to contact your doctor.
---
What causes inflammatory breast cancer?
There is no clear cause of inflammatory breast cancer.
Most IBC is considered invasive ductal carcinoma, a type of cancer that forms from the cells that line milk ducts in the breast and then spreads to other parts of the breast tissue or other parts of the body, although the symptoms and treatment differ.
Inflammatory breast cancer, which is more common in women under the age of 40, Black women, and those who have a higher body mass index (BMI), develops when cancerous cells block lymph vessels, which are small tubes that allow lymph fluid to drain out of the breast. This blockage is what creates the swelling and discoloration in the breast.
When a breast cell develops changes in its DNA, the abnormal cancerous cell can grow and divide rapidly. Cancerous cells can spread to lymph nodes and other organs and tissues in the body.
Despite the name, inflammatory breast cancer is not caused by inflammation. Rather, the term refers to the inflamed appearance of the breasts.
---
How is inflammatory breast cancer diagnosed?
While it can be more difficult to diagnose inflammatory breast cancer because there is not a lump to view on a mammogram or feel during an exam, it is typically diagnosed through a clinical exam and a biopsy. A skin punch biopsy is when a sample of the skin and tissue immediately underneath the skin is taken. A pathologist will then test the skin and tissue to determine if it is cancerous. Additional tests, including MRI or ultrasound, may also be recommended.
If the biopsy results show that the skin and dermal lymphatics (network of small blood vessels) of the breast skin contain cancer cells, this confirms it is inflammatory breast cancer. A diagnosis of IBC is classified as Stage 3 breast cancer, since it includes cancer of the skin of the breast. If the cancer has spread outside of the breast and skin to other organs of the body, it is classified as Stage 4.
---
How is inflammatory breast cancer treated?
Typically, IBC grows rapidly and requires aggressive treatment, beginning with chemotherapy and followed by a mastectomy to remove the cancer. Radiation, hormone therapy, and/or additional chemotherapy may also be provided post-surgery. However, treatment options may vary based on what type of hormone receptors the original cancer had. Additionally, breast reconstruction is usually not done when the original diagnosis was IBC because of the high risk of local and regional recurrence, as well as the risk for metastatic recurrence.
According to the American Cancer Society, the 5-year relative survival rate for Stage 3 IBC is 52%. However, with advances in early detection and aggressive treatment, the survival rate for inflammatory breast cancer patients has improved significantly in recent years.
---
Inflammatory breast cancer metastasis
Inflammatory breast cancer grows and spreads (metastasizes) quickly, often spreading to nearby lymph nodes, which are small, bean-shaped structures in the body that support the immune system. This can cause lymph nodes to become swollen and painful. IBC can also metastasize (spread) to organs such as the brain, bones, liver, and lungs if not diagnosed promptly.
Once breast cancer spreads from the breast to other parts or systems of the body, it is considered metastatic breast cancer and is classified as Stage 4. Tests can determine if and how IBC has spread to other parts of the body.
---
Inflammatory breast cancer FAQs
Does a breast cancer rash appear suddenly?
Yes, breast cancer rashes associated with inflammatory breast cancer do appear suddenly, sometimes overnight.
What kind of breast cancer starts with a rash?
Inflammatory breast cancer typically starts with a rash, rather than a lump. The rash can appear suddenly and cover one-third or more of the breast. Paget's disease of the breast, another type of breast cancer, may also show up as a rash or redness.
How can you tell if a rash is cancerous?
Only lab tests, such as a biopsy, can determine if a rash is a symptom of inflammatory breast cancer or another form of breast cancer. Schedule an appointment with your doctor or a breast specialist, who can take a closer look and determine more about the rash.
Medically reviewed June 2023
---