Inflammatory Breast Cancer (IBC)
What Is Inflammatory Breast Cancer (IBC)?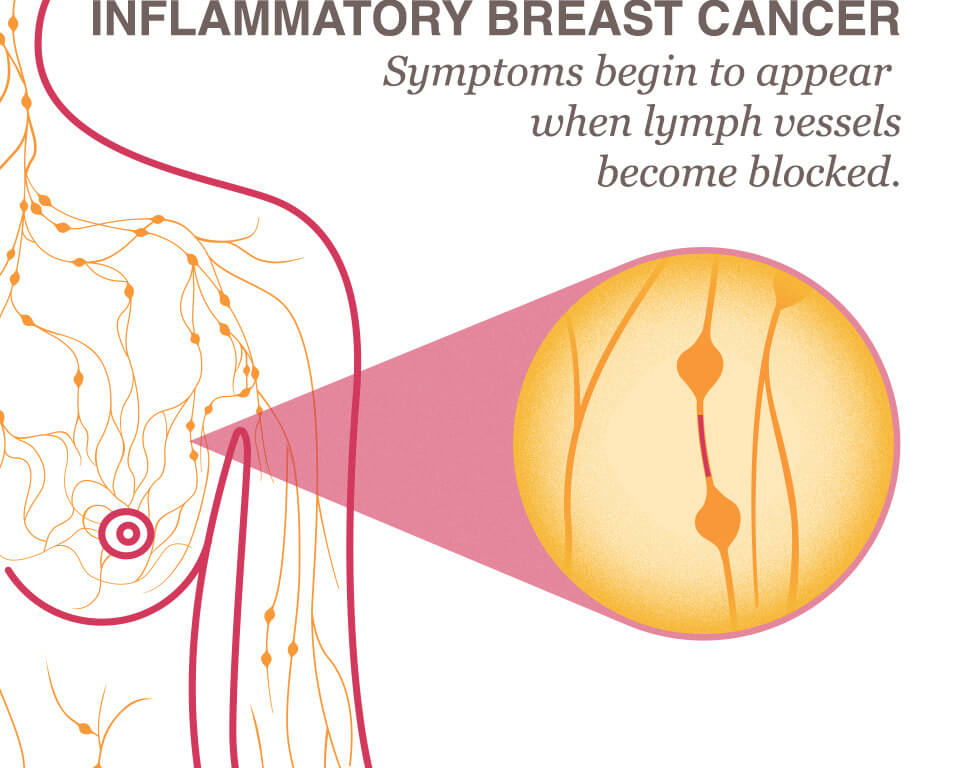 Inflammatory breast cancer is aggressive and fast-growing breast cancer in which cancer cells infiltrate the skin and lymph vessels of the breast. It often produces no distinct tumor or lump that can be felt and isolated within the breast.  But when the lymph vessels become blocked by the breast cancer cells, symptoms begin to appear.
---
What Are The Symptoms Of Inflammatory Breast Cancer?

Early IBC symptoms may include persistent itching and the appearance of a rash or small irritation similar to an insect bite. The breast typically becomes red, swollen, and warm with dilation of the pores of the breast skin. The skin may appear pitted like an orange peel, and nipple changes such as inversion, flattening, or dimpling may occur.
Mastitis, an infection of the breasts, can carry similar symptoms. If your primary care physician or gynecologist says it is mastitis, but symptoms persist after a one week treatment of antibiotics, it's important to be seen by a breast specialist.
---
How Is Inflammatory Breast Cancer Diagnosed And Treated?
A diagnosis of inflammatory breast cancer is classified as Stage 3 breast cancer and is diagnosed through your physician's clinical judgment and a biopsy. A biopsy for inflammatory breast cancer is a biopsy of the skin of the breast.
If the pathology results show that the skin and dermal lymphatics of the breast skin contain breast cancer cells, this confirms it is inflammatory breast cancer.
Typically, IBC grows rapidly and requires aggressive treatment. This is the only type of breast cancer that requires urgent treatment, beginning with chemotherapy. Most oncologists recommend both local treatment of the affected breast and systemic treatment (whole body treatment).
Surgery, radiation therapy, chemotherapy and hormone treatments may be included in the regimen. With aggressive treatment, the survival rate for inflammatory breast cancer patients has improved significantly in recent years.
---
Medically Reviewed on April 15, 2020