Metastatic Breast Cancer
What Is Metastatic Breast Cancer?
Metastatic breast cancer is also classified as Stage 4 breast cancer. The cancer has spread to other parts of the body. This usually includes the lungs, liver, bones or brain.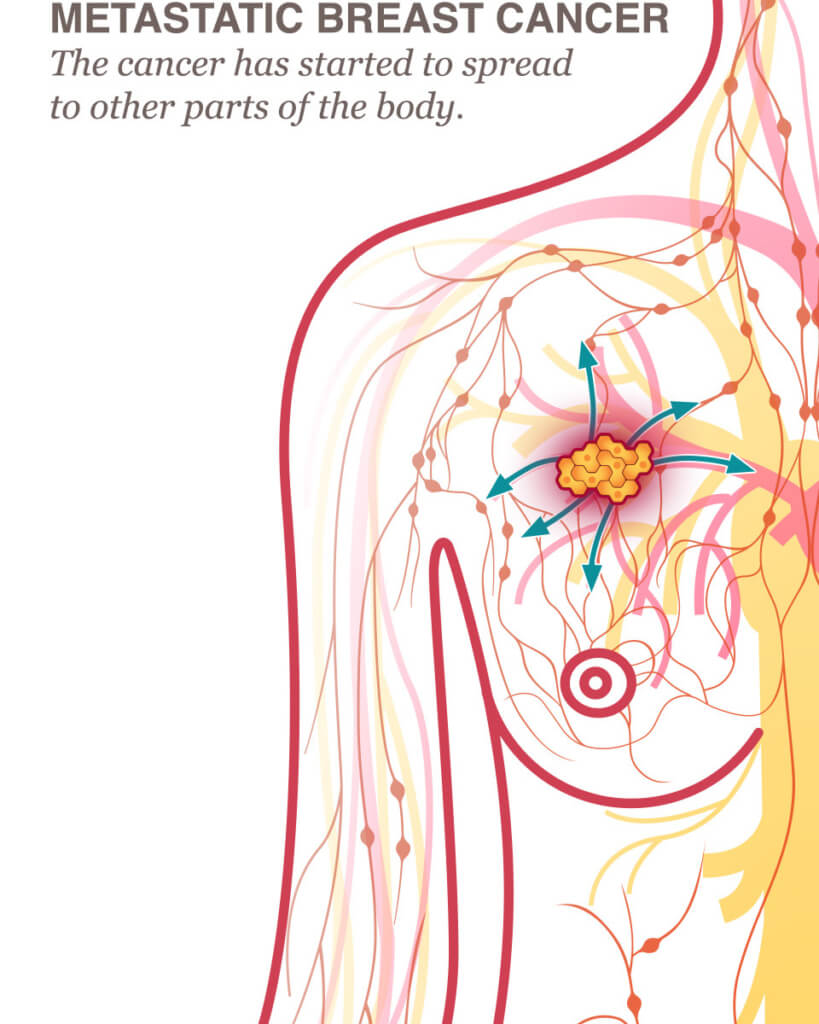 How does cancer spread, or metastasize?
The spread of cancer usually happens through one or more of the following steps:
Cancer cells invade nearby healthy cells. When the healthy cell is taken over, it too can replicate more abnormal cells.
Cancer cells penetrate into the circulatory or lymph system. Cancer cells travel through the walls of nearby lymph vessels or blood vessels.
Migration through circulation. Cancer cells are carried by the lymph system and/or the bloodstream to other parts of the body.
Cancer cells lodge in capillaries. Cancer cells stop moving as they are lodged in capillaries at a distant location and divide and migrate into the surrounding tissue.
New small tumors grow. Cancer cells form small tumors at the new location elsewhere in the body (called micrometastases).
---
What Are The Symptoms Of Metastatic Breast Cancer?
The symptoms may vary, depending on how far your breast cancer has spread and what type of tissue the new cancer growth has invaded. All symptoms should be reported to your physician.
Symptoms of metastasis may vary depending on where the cancer has spread to.
Here are some symptoms that vary by locations commonly associated with breast cancer metastasis.
Metastasis in the bone may cause:
Severe, progressive pain
Swelling
Bones that are more easily fractured or broken (not as a result of osteoporosis)
Metastasis to the brain may cause:
Persistent, progressively worsening headache or pressure to the head
Vision disturbances
Seizures
Vomiting or nausea
Behavioral changes or personality changes
Metastasis to the liver may cause:
Jaundice
Itchy skin or rash
Abnormally high enzymes in the liver
Abdominal pain, appetite loss, nausea, and vomiting
Metastasis to the lungs may cause:
Chronic cough or inability to get a full breath
Abnormal chest X-ray
Chest pain
Other nonspecific systemic symptoms of metastatic breast cancer can include fatigue, weight loss, and poor appetite, but it's important to remember these can also be caused by medication or depression.
If you notice these symptoms, be sure you talk with your physician. They could be important for getting the treatment you need.
---
Learning opportunity for oncologists or anyone involved in the treatment of patients with metastatic breast cancer:
Looking Ahead Toward Better Outcomes for Heavily Pre-Treated HR+/HER2- Metastatic Breast Cancer
Join a panel of expert oncologists to discuss best practices for addressing treatment challenges for patients with heavily pretreated HR+/HER2‐ MBC. Panelists will share strategies for sequencing therapies in these patients and optimizing treatment in various patient subgroups. Recent data on emerging therapeutic options in this difficult‐to‐treat population will be reviewed, including novel antibody-drug conjugates (ADC) that have demonstrated efficacy in this population with reduced toxicity compared to chemotherapy.
This free CME activity is jointly provided by Partners for Advancing Clinical Education (PACE) and PlatformQ Health Education, LLC, in collaboration with National Breast Cancer Foundation.
This activity was released on April 3, 2023 and is valid until April 3, 2024. Requests for credit must be made no later than April 3, 2024.
Medically reviewed June 2023
---
Materials on this page courtesy of National Cancer Institute
---