Chemotherapy
---
What Is Chemotherapy?
Chemotherapy is a treatment method that uses a combination of drugs to either destroy cancer cells or slow down the growth of cancer cells.
Cytotoxic drugs (meaning "toxic to cells") are usually given orally or through a vein (intravenously or "through the bloodstream").
Chemotherapy is a systemic therapy, meaning that the drugs travel in the bloodstream throughout the entire body.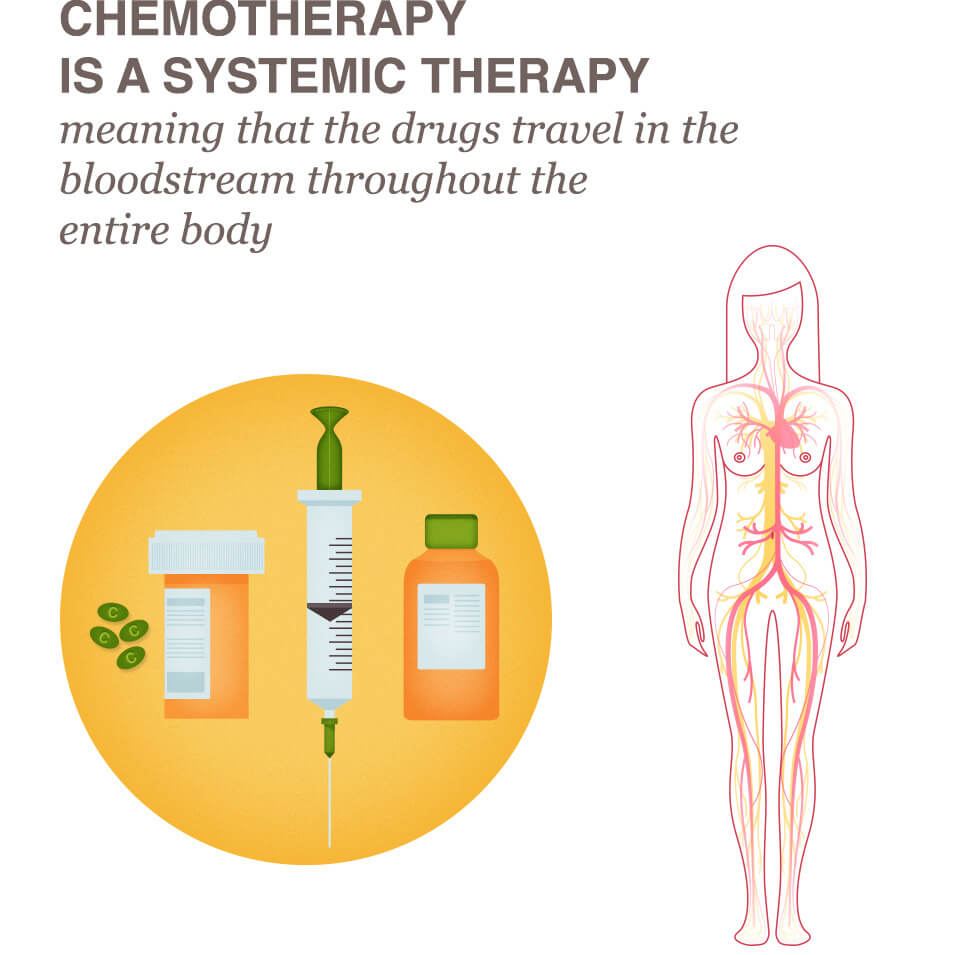 ---
Who Needs Breast Cancer Chemotherapy?
Chemotherapy is offered to most patients based on several factors including:
Tumor type
Tumor grade
Tumor size
Type of receptors and status
Number of lymph nodes involved and degree of involvement
The risk for cancer to spread elsewhere in the body
Your medical team will work to select the right blend of chemotherapy drugs to suppress each stage of the cancer cells' growth.
---
How Is Breast Cancer Chemotherapy Administered?
Chemotherapy is commonly prescribed along with other treatment methods such as hormonal and targeted therapies. It can also be used to shrink a tumor before surgery for easier and safer removal, referred to as neoadjuvant chemotherapy. Most chemotherapy treatments are administered intravenously, or through an IV.

If you receive chemotherapy, your doctor will administer it in short courses with several weeks in between to allow your normal cells to recover. This treatment period can be a challenging time emotionally and physically. It is important for you to develop a support team of family or friends that can help comfort and encourage you in this time.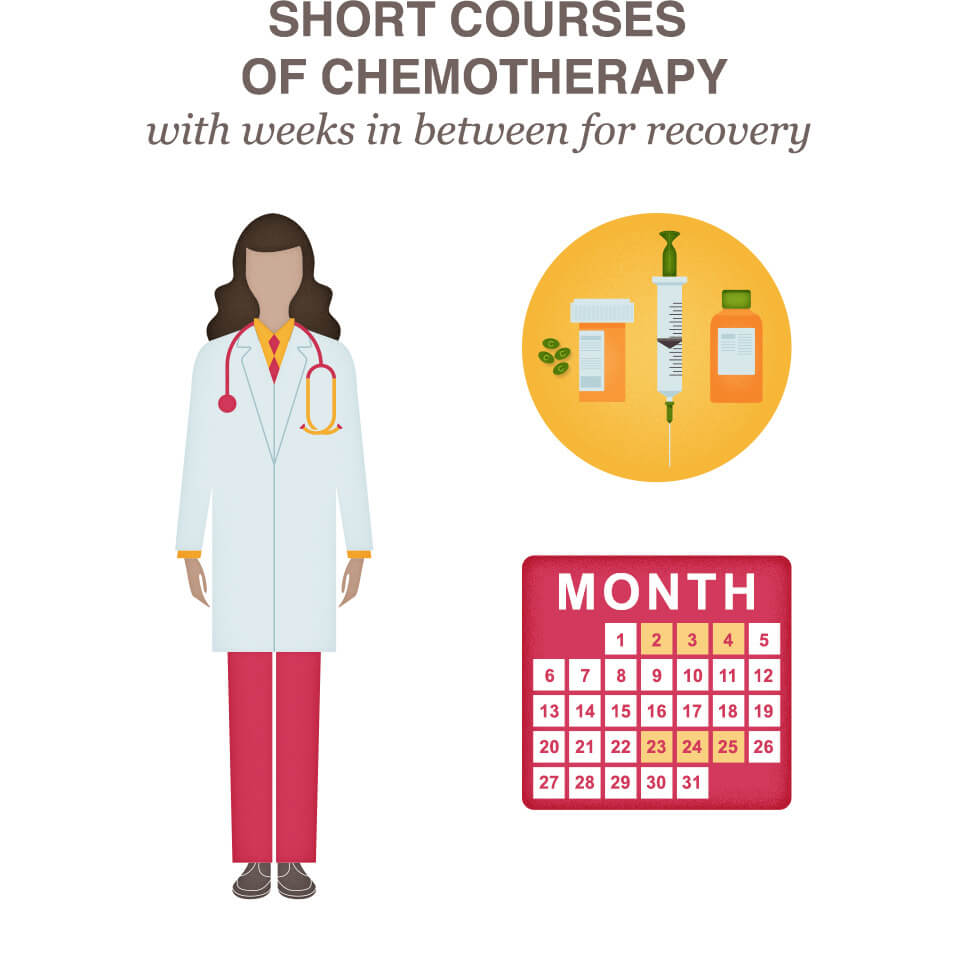 ---
What Are The Side Effects Of Chemotherapy?
Although chemotherapy kills the fast-growing cancer cells, the drugs can also unfortunately harm normal cells that divide rapidly.
You may have a reduction in red blood cells. When drugs lower the levels of healthy blood cells, you're more likely to get infections, bruise or bleed easily, and feel very weak and tired. Your healthcare team will check for low levels of blood cells. If your levels are low, your healthcare team may stop the chemotherapy for a while or reduce the dose of the drug. There are also medicines that can help your body make new blood cells.
You may have a reduction in white blood cells. A reduction in white blood cells can increase your risk of getting an infection. This is why it's important to stay away from people who have a cold or flu, eat healthy meals, get your rest, and take your temperature each day. A rise in body temperature is usually the first sign of your white blood cells being very low, known as neutropenia. There are medications your medical oncologist can prescribe to get your white blood cells to start increasing in number again.
Chemotherapy may affect the cells that produce hair. Chemotherapy may cause hair loss. If you lose your hair, it will grow back after treatment, but the color and texture may be changed.
You may have changes from a different balance of cells lining your intestinal tract. Chemotherapy can cause a poor appetite, nausea and vomiting, diarrhea, or mouth and lip sores. Your healthcare team can prescribe medicines and suggest other ways to help with these problems.
Chemotherapy may affect the nerve cells. Some drugs used for breast cancer can cause tingling or numbness in the hands or feet. This type of side effect is called peripheral neuropathy. This usually goes away after treatment is over.
Are there any lasting side effects of chemotherapy?
Sometimes people do experience problems that may not go away. For example, some of the drugs used for breast cancer may weaken the heart. Your doctor may check your heart before, during, and after treatment. A rare side effect of chemotherapy is that occasionally, years after treatment, a few women have developed leukemia (cancer of the blood cells).

Some chemotherapy drugs can damage the ovaries. If you have not gone through menopause yet, you may have hot flashes and vaginal dryness. Your menstrual periods may no longer be regular or they may stop. You may become infertile (unable to become pregnant).
Child-Bearing in the Future After Completing Chemotherapy Treatments
If you are of childbearing age and plan to have children in the future, you should talk with your doctor about family planning and fertility preservation before treatment begins. Chemotherapy can effect the ovaries, preventing normal ovarian function in the future. Additionally, many chemotherapy drugs given during the first trimester are known to cause birth defects.

Although chemotherapy is often a very personally challenging time in life, there are thousands of people today who are very thankful for its life-saving and life-extending potential.
Medically reviewed June 2023
---