Triple Negative Breast Cancer
---
What Is Triple Negative Breast Cancer?
A diagnosis of triple negative breast cancer means that the three most common types of receptors known to fuel most breast cancer growth–estrogen, progesterone, and the HER-2/neu gene– are not present in the cancer tumor. This means that the breast cancer cells have tested negative for hormone epidermal growth factor receptor 2 (HER-2), estrogen receptors (ER), and progesterone receptors (PR).
Since the tumor cells lack the necessary receptors, common treatments like hormone therapy and drugs that target estrogen, progesterone, and HER-2 are ineffective. Using chemotherapy to treat triple negative breast cancer is still an effective option. In fact, triple negative breast cancer may respond even better to chemotherapy in the earlier stages than many other forms of cancer.
---
Who Is At Risk For Triple Negative Breast Cancer?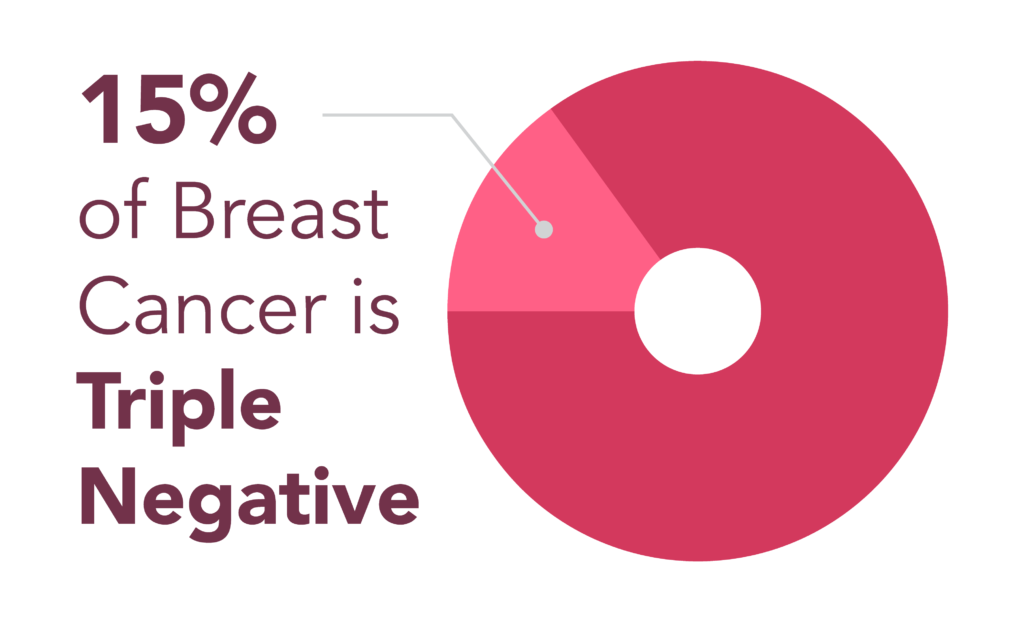 Triple negative breast cancer occurs in about 10-20% of diagnosed breast cancers and is more likely to affect younger people, African Americans, Hispanics, and/or those with a BRCA1 gene mutation.
What Is The Prognosis For Triple Negative Breast Cancer?
Triple negative breast cancer can be more aggressive and difficult to treat. Also, the cancer is more likely to spread and recur. The stage of breast cancer and the grade of the tumor will influence your prognosis. Research is being done currently to create drug therapies that are specific for triple negative breast cancer.
Interested in learning more? Watch the free webinar, Facing TNBC: Self-Advocacy & Decision Making.
Medically reviewed June 2023
---
Material on this page courtesy of Johns Hopkins Medicine
---